The Final Puzzle – An Untold Akbar Birbal Story
Join Rediscovered Bookshop for an evening with local author Juhi Ray discussing her book The Final Puzzle – An Untold Akbar-Birbal Story, with Devri Walls, this Thursday May 28 from 7 – 8 p.m. on Instagram LIVE.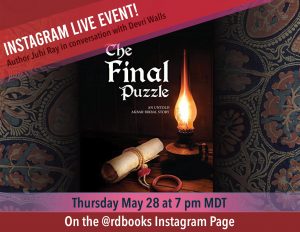 Set in 16th century Hindustan (the modern-day Indian subcontinent), Emperor Akbar discovers an incomplete astrological chart. It may hold a secret that could threaten his life and the Empire. He assigns the sensitive task of uncovering the chart's mystery to his brilliant adviser, Mahesh Das. This journey takes Mahesh to the heartland of Hindustan. Mahesh however, was not expecting to fall in love. He is torn between his heart and his loyalty. Why did Emperor Akbar bestow the title of Raja Birbal on Mahesh Das? His closeness to the Emperor and meteoric rise spark jealous enemies to target him.Amid the backdrop of religious tensions in the Empire, Akbar moves forward to promote religious tolerance and root out corruption. Rebellions against Akbar and personal attacks against Raja Birbal become more common. After multiple attempts on Birbal's life, his enemies believe they are successful. In 1586, while battling the hilly tribes of the Northwest frontier, Raja Birbal is declared dead. But his body was never found. What really happened?
Visit https://www.facebook.com/events/686755018750937/ for more information.
---
For more fun things to do in Boise this week, check out the latest issue of Fun10Boise. 
Tess Abney is a freelance writer who was born and raised in the Quad Cities. She spends most of her time attempting to successfully raise three boys. In her free time, writing is her passion. Whether it is sharing local events and businesses with readers or sharing her thoughts on life, she finds comfort in the way words can bring people together.