J Todd plays Elton John Greatest Hits
Valiant Productions presents 'Quarantine Sessions: J Todd plays Elton Johns Greatest Hits' this Tuesday May 26 at 7 p.m. online.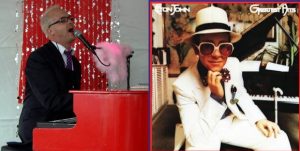 A message from J Todd:
"I've been working my way through a challenge where I pick 10 albums that were influential or inspirational to me and I play the whole album live. The album this time is Elton Johns Greatest Hits and I'm lucky enough to be able to do it at Valiant Productions in their amazing studio with a big green screen, a 3 camera shoot, a producer, the whole thing. Valiant productions work is amazing, it legitimately looks like you're on a late night TV show. Super high quality.
Elton Johns Greatest Hits was the first record of my own that I ever purchased and I literally wore the vinyl out. My parents couldn't understand why all I wanted to do for weeks and months was to put this record on my headphones and lay on my bed and study it, over and over. If you know me it's absolutely undeniable the influence that Elton John has had on me and my career choice and personal path, that's why preparing for this show has been easy, I know all of these songs like they're in my DNA.
Still looking for a good outfit, it's been hard to find with so many things closed. I'll come up with something.
These shows are done in hopes of raising money for a cause of the performers choice, for this show I will be donating to the Treefort Live Music Relief Fund. https://www.treefortmusicfest.com/live-music-relief-fund/ "
Visit https://www.facebook.com/events/2848314188627761/ for more information.
---
For more fun things to do in Boise this week, check out the latest issue of Fun10Boise. 
Tess Abney is a freelance writer who was born and raised in the Quad Cities. She spends most of her time attempting to successfully raise three boys. In her free time, writing is her passion. Whether it is sharing local events and businesses with readers or sharing her thoughts on life, she finds comfort in the way words can bring people together.