10 Fun Things To Do Week of June 14th: Father's Day, Midsummer, Music and MORE!
OnBoise.com proudly presents our newest feature, FUN10, a list of the top 10 things to do in the Boise this week, and every week! Every Sunday, we'll drop a new FUN10, to give you a head start on your week and a heads up on what's going on over the coming seven days. Check out FUN10 every Sunday for the details on ten awesome events happening around town. It's a cool read, and a great way to get started planning your entertainment for the week.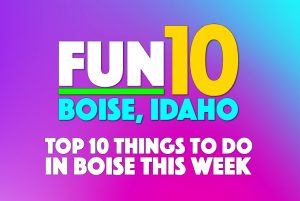 Due to the cancellation of so many regularly scheduled events in Boise – with more coming in every hour – we're once again focusing this week's edition of Fun10Boise on fun entertainment you can enjoy in the safety of your own home or while practicing safe 'social distancing' as the state begins to open back up.
FUN10 — ten ways for you to have fun in the Boise, this week and every week, running every Sunday, only on your site for fun, free, local entertainment, OnBoise.com!
So what's on the FUN10 for this week? Read on …
Become A Mixology Expert at Boise Bartending School
Boise Bartending School is now offering Mixology classes, with job placement, both nights and weekends.
These classes embrace a learning environment that will prepare you for the path ahead. Boise Bartending School's classes incorporate traditional learning styles as well as hands-on experiences to prepare you for your future bartending job /career. Classes are taught by dedicated and experienced bartending school instructors Using proven teaching strategies in mixology, they make sure that every student finds a path to success
To get started on this exciting new career, call (208) 810-0644 or visit https://boisebartendingschool.com/ for your 15-minute tour!
Mayor McLean Hosts Listening Tour
Major McLean will host a Hybrid Format Session Listening Tour, both in person and online on Wednesday Jun 17 from 6 – 7 p.m. at Boise City Hall (150 N Capitol Blvd Boise).
Here is Mayor McLean's statement regarding the event:
"Last year, I had the great honor of talking to thousands of Boiseans face-to-face in unscripted, informal conversations at open venues across our city. That experience deeply informed my priorities as Boise's mayor and, as promised, I look forward to continuing the conversation.
With the health and safety of our community in mind, we adjusted the format of this Listening Session. This session will be held in a "hybrid" format allowing both virtual an in-person attendance.
– Attend virtually: Watch live and submit questions: https://youtu.be/W9CNAuRvi7g
– Attend in person: To comply with physical distancing protocols, we must set a limit of 45 people who can attend the session in person in the Maryanne Jordan Council Chambers at City Hall.
Free parking will be available at City Hall for the event.
As always, this will be an unscripted, informal conversation, and ASL translation will be offered. I look forward to connecting with all of you on June 17."
Groom-A-Thon
Join Emerald Street Kennels, Ride for 22, The Rusty Dog and Friends Furever Animal Rescue for Groom-A-Thon: Veteran Suicide Awareness! this weekend!
This fundraiser to raise Awareness for Veteran Suicide will feature grooming, music, food and camaraderie! Here is the event's schedule:
Friday, June 19, 2020
7:00 AM – 7:00 PM (Jun 21)
Fur-Pal Play room and Pool Play
7:00 AM – 7:00 PM (Jun 28)
Grooming Appointments
10:00 AM – 2:00 PM (Jun 21)
Friends Furever Microchip Clinic
10:00 AM – 7:00 PM (Jun 21)
Rusty Dog Food Truck
Saturday, June 20, 2020
12:00 AM – 4:00 PM
Music and Veteran Meet and Greet
1:00 PM – 4:00 PM
Veteran Speakers
For more information, please visit https://www.facebook.com/events/263916061515376/.
Tracy Morrison Quarantine Session
Join Tracy Morrison for a Quarantine Session at Valiant Productions, this Friday Jun 19 from 7 – 8 p.m.
Support the show with a virtual tip:
https://venmo.com/Tracy-MorrisonID
https://www.paypal.me/CamasPrairieMusic
From Tracy Morrison:
Thank you for supporting live music! I'll be sharing an intimate solo performance with the help of my friends at Valiant Productions. Valiant has offered to provide their studio space & expertise for FREE! Their only request is that I donate a portion of my Venmo/PayPal Tip Jar to a non-profit of my choice. I've chosen THE REUSEUM they specialize in unique items from the world of science, industry and technology. They foster innovation & enhance children's knowledge of Science, Technology, Engineering & Mathematics by providing educational workshops to help create awareness about "recycling, craft, technology and establishing new lines of thought about how we treat our "obsolete" objects in society". Stop by the Reuseum Store at 3131 W. Chinden Blvd., Garden City, ID. @reuseum
Thanks to Valiant I will be LIVE STREAMING with a multi-camera & multi-channel mix! Please don't miss this unique experience with me!
Also many THANKS to the Sponsors!
Idaho Central Credit Union
Audio Lab Recording Studio
For more information, please visit https://www.facebook.com/events/954135078370767/.
Create & Connect: An Idaho Botanical Garden Fundraiser
Are you itching to get outside and connect with friends?
Idaho Botanical Garden (2355 Old Penitentiary Rd. Boise) has revamped their annual fundraiser for you to better fit our new, weird normal. Listen to live music, enjoy local food and drinks (you get one free), and create fun projects with DIY kits all while maintaining social distance and supporting a great cause. You can also bid in a digital auction with super unique items from June 12th – June 21st.
Create & Connect: An Idaho Botanical Garden Fundraiser takes place this Sunday Jun 20 with Brunch taking place 10 a.m. – 1 p.m. and Happy Hour from 4 p.m. – 7 p.m.
This spring, the Garden was closed as part of Idaho's "Stay at Home" order to support the effort to contain the spread of COVID-19. Like many organizations, we lost significant revenue as a result and face a significant and continued loss in the near future through the cancelation and postponement of our events. We appreciate your support so that we can keep our staff employed, our plants growing, and to continue offering the events and programs you know and love.
Pick a session (or both) and add your a la cart food, drinks, and DIY Kits. Pack your picnic gear; low back chairs, blankets, hats, sunscreen, and water bottles (we have a water filling station), and join us on June 20th in the Garden. Get your tickets before they sell out!
For more information, please visit https://idaho-botanical-garden-shop.myshopify.com/.
Record Store Day at The Record Exchange
Since 2008, Record Store Day has grown into the world's largest single-day music event, shining a light on the culture of the indie record store across the globe. In 2020, that world is different, so Record Store Day will be, too. RSD is now scheduled to be celebrated with special, properly distanced release dates on Saturdays in August, September and October.
Record Store Day will look very different this year, but supporting indie record stores may be more important than ever. We don't know what sort of rules will be in place, or what sort of gatherings people will be in the mood for this year, so we're focusing on the music and getting the really great titles on the RSD Official List this year into the stores and into your hands, in the most financially and socially responsible way.
For more information, please visit https://www.facebook.com/recordexchange.
Hokum Hi-Flyers at Idaho Botanical Garden
Join the Hokum Hy-Flyers at Idaho Botanical Garden (2355 Old Penitentiary Rd. Boise) this Saturday Jun 20 from 4 – 7 p.m.
This is a fundraising event called "Create + Connect" in the Idaho Botanical Garden. A fun picnic-like atmosphere with DIY kits, yummy food, live music, and LOTS of physical distancing. The event will max. at 200 people and be spread across 2-3 gardens (a few acres) so we can enjoy being out of the house safely.
For more information, please visit https://www.facebook.com/events/684282752393045/.
Midsummer Day Celebration at Mad Swede Brewing
Sweden's traditional Midsummer Day celebrates the summer solstice during a weekend between June 20 and 26. It's a day to enjoy the extra sunshine and summer flowers, feast, and dance into the night. This year, the summer solstice falls ON Midsummer Day. How cool is that?!
For the fourth year in a row, Mad Swede Brewing (2722 S Cole Rd. Ste 140 Boise) celebrating the longest day of the year, because this is one party that just has to be repeated. Midsummer Day Celebration will take place on Saturday Jun 20 from 3 – 11 p.m.
This party kicks it off with a pop-up craft market celebrating local artists, just in time to snag your last-minute Father's Day gifts. Once you've stocked up on local art, get down and cut a rug with live music from the Uptown Chiefs Curb Crust pizza will be here serving up delicious pizza and fresh salads, so we've got your feast covered.
Enjoy a special infusion of Dilly Dallying Dortmunder lager on tap in our tasting room to keep you refreshed on this sunny day. Our mad great beer will be flowing all day!
Craft vendors:
Surley Mermaid
Better Man Beard
Sizzle Glass
The Red Penguin
Grateful Soap Company
BusyBaskets208
MGArnold Art
Terri's This and That
Jake Carley Art
our very own Carrera Swarm!
Live Music For Father's Day at Hilltop Station
Are you looking for a fun-filled way to spend Father's Day? Then make plans to head to the Hilltop Station (12342 E Highway 21 Boise) for some live music this Sunday Jun 21! Doors open at noon and the show starts at 2 p.m.
Come out and enjoy some groovy tunes from Thomas Paul as well as some tasty acoustic jams from Uncle Chris.
For more information, please visit https://www.facebook.com/hilltopstationboise/.
Laugh It Off Comedy Open Mic
Tough week? Dreading Monday? We feel that.
Join Laugh It Off Comedy Open Mic (610 E Boise Ave Boise) each and every Sunday, and Laugh It Off!
Signups: 6:30 PM
Laughs: 7-9 PM
Happy Hour ALL DAY!
$3 wells
$6.50 pitchers
FREE laughs
Eastside is operating well within the protocols set forth by the State of Idaho and the CDC. In addition to this and hand sanitizer being readily available throughout the bar:
– a different, clean mic cover per comic will be provided (you are welcome to bring your own, but a mic cover is required)
– masks are not required but recommended when not performing or drinking
Let's take some time to Laugh It Off!
For more information, please visit https://www.facebook.com/events/253662585696407/.
Stay tuned to OnBoise.com, your site for fun, free, local entertainment for upcoming events in our weekly column, FUN10, every Sunday!
#Fun10Boise
Tess Abney is a freelance writer who was born and raised in the Quad Cities. She spends most of her time attempting to successfully raise three boys. In her free time, writing is her passion. Whether it is sharing local events and businesses with readers or sharing her thoughts on life, she finds comfort in the way words can bring people together.