10 Fun Things To Do Week of June 7th: Knitting, Comedy, Music and MORE!
OnBoise.com proudly presents our newest feature, FUN10, a list of the top 10 things to do in the Boise this week, and every week! Every Sunday, we'll drop a new FUN10, to give you a head start on your week and a heads up on what's going on over the coming seven days. Check out FUN10 every Sunday for the details on ten awesome events happening around town. It's a cool read, and a great way to get started planning your entertainment for the week.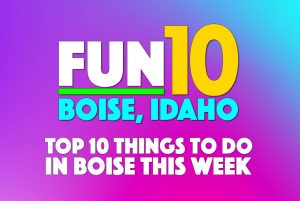 Due to the cancellation of so many regularly scheduled events in Boise – with more coming in every hour – we're once again focusing this week's edition of Fun10Boise on fun entertainment you can enjoy in the safety of your own home or while practicing safe 'social distancing' as the state begins to open back up.
FUN10 — ten ways for you to have fun in the Boise, this week and every week, running every Sunday, only on your site for fun, free, local entertainment, OnBoise.com!
So what's on the FUN10 for this week? Read on …
34th Annual Alive After Five Goes Virtual
The 34th season of the Alive After Five summer concert series in downtown Boise has gone virtual!
Catch the shows weekly on Wednesdays at 6:00 pm on Downtown Boise's Facebook page, the Alive After Five Facebook page, or the Downtown Boise YouTube channel.
Get the at-home experience!
Each Wednesday from 4:30-6:00 pm stop by The Grove Plaza to grab your favorite event merch & to-go beer/wine to enjoy at home.
Click here to see what we're selling and to pre-order your experience kits!
WEEKLY SCHEDULE:
4:30 pm – 6:00 pm: Swing by The Grove Plaza for your at-home experience merch.
Don't forget to order dinner to-go from a downtown restaurant for the night!
6:00 pm – 7:30 pm: Tune in, listen & love the virtual concert from the comfort of home! We've got a
great show.
June 2020 Lineup:
Wednesday, June 10, 2020
Headliner: Bread & Circus
Opener: The Weary Times
Wednesday, June 17, 2020
Headliner: low-fi
Opener: The Seatopians
Wednesday, June 24, 2020
Headliner: Scars on 45
Opener: Aka Belle
July & August lineups will be announced as the dates draw closer! Follow Downtown Boise on Facebook and Instagram for the latest updates.
Mike Lemieux Performs on StreetJelly
Catch local musician, Mike Lemieux, virtually on StreetJelly.com this Wednesday Jun 10 from 4 – 5 p.m.
Mike Lemieux is a journeyman keyboardist and vocalist based in Boise, Idaho. He's done a bit of everything in his decades-long musical career, from church bands to cover bands to musical theatre. He has just enough jazz chops to get him in trouble, and dabbles freely in fusion, funk, soul, blues, rock, and pop.
StreetJelly is a site dedicated to providing an online venue for live music with studio quality sound and a fun, family-friendly vibe. Don't be put off by their, shall we say, "vintage" website design — they're serious about bringing live music to your home while supporting independent musicians.
For more information, please visit http://streetjelly.com/lemonwax.
Bilingual Book Club
Looking for something new and different to expand your reading horizons?
Join Bilingüe, a Bilingual Book Club that meets the 2nd Thursday bi-monthly (February, April, June, August, October, and December) via Rediscovered Bookshop – Caldwell and will read a book in either English or Spanish.
April's book choice is 'I Am Not Your Perfect Mexican Daughter/Yo No Soy Tu Perfecta Hija Mexicana' and will take place via Zoom this Thursday Jun 11 at 7 p.m.
For more information, please visit https://www.facebook.com/events/614714372576730/.
Wild Idaho! Web Series
For decades, ICL members, partners, staff and board gathered at Redfish Lake in May for our annual conference and conservation updates.
This year, we will not be meeting in our traditional way, but are very excited to connect with you and bring our conservation community together virtually.
Wild Idaho! Our Public Lands is the first in a 4 part series. Join ICL and special guest author Jack Nisbet to hear about historical changes on Idaho's public lands and ICL's Brad Smith on grizzly bears. You'll learn about ICL's efforts to protect wildlife and special places and how you can get involved. Pre-register today and we will send out a reminder the day before the event.
https://us02web.zoom.us/webinar/register/WN_xcgkK2lSTzKGI5zRYiQShw
Wild Idaho! Web Series – Part One: Our Public Lands will take place this Thursday Jun 11 from 6:30 7:30 p.m.
Grab a cocktail, some snacks, and virtually join us along with other ICL members and supporters from around the state for this interactive update!
Idaho Mountain Music in the Wilderness
Welcome, curious onlooker, to the inaugural installment of Idaho Mountain Music in the Wilderness.
The concept is simple: First 12 people RSVP get entry. Connor Jay Liess will meet you at a centralized location in town (this time, The HandleBar Boise), before carpooling into a designated location in the wilderness. (If the idea of riding in a stranger's van into the wilderness doesn't scare you, keep reading).
The commute will never be more than a hour or two's drive. Once at the dropoff (a trailhead, a dead end road, a game trail, we'll surprise you), we'll hike in to a predestined location somewhere in the mountains or high prairie, unpack, and sit peacefully in the golden hour around a fire. I will bring with me a banjo and/or guitar and play you travelers some campfire numbers. Plan on getting back to town after dark. Supper will be cheap and primitive, but provided all the same. (If the idea of listening to banjo murder ballads high up in the mountains doesn't scare you, keep reading).
I've grown tired of the loud and repetitive practice of gigging in most spots around the city. I said it in a song, and I'll say it again: Don't need nothing but the ponderosa pines and my trust banjo — and that's just what you'll get if you tag along on this adventure.
LOCATION: Meet at the Handlebar Boise at 6 p.m. sharp. You will be given a slip of paper with coordinates on it. Those coordinates will get you to the chosen location outside of town.
If you like fly fishing mountain streams, stay tuned for summer's installment of Idaho Mountain Music in the Wilderness (Summer).
For more information, please visit https://www.facebook.com/events/691649708332319/
Live Music at Lost Grove Brewing
Make plans this Friday Jun 12 to enjoy some live music at Lost Grove Brewing (1026 S La Pointe Street Boise)! Music kicks off at 7 p.m.
Ryan Curtis, with Dave Manion, will be playing their first show in months! Tunes will be played outside, with plenty of seating set up for social distancing.
For more information, visit https://www.facebook.com/events/701780630610396/.
The Virtual Wedding Show
Are you planning your dream wedding and looking for the best wedding professionals? Join IBL Events for the FREE Virtual Wedding Show on June 13th!
Finding quality wedding vendors for your big day is important, so we are bringing them all together for you to meet at the upcoming Virtual Wedding Show! This virtual event is a one-stop-shop for all of your wedding planning needs. Vendors will be talking to you LIVE about their services and how they can help you bring your dream wedding to life.
Vendor Categories Include:
DJs & Entertainment
Venues
Caterers
Rentals & Decor
Cake & Desserts
Dresses, Attire & Accessories
Wedding Planners
Photographers
The Virtual Wedding Show will take the stress out of wedding planning by eliminating the need to research vendors, contact them for information, and drive to appointments all over town. By joining us on June 13th, the vendors come to YOU in the comfort of your own home! You'll quickly be able to narrow down which vendors are right for you, making your planning process a more fun and enjoyable experience.
These wedding vendors are open for business and ready to work with you! Whether you're just finalizing a few details or you're in need of everything from A-Z, this is the event you don't want to miss.
Register today for your front-row seat to this celebration of weddings, and enjoy a more stress-free way of planning your big day!
For more info on participating as a vendor please visit www.IdahoDreamWedding.com
World Wide Knit in Public Day
In celebration of World Wide Knit in Public Day, join The Twisted Ewe outside of Jack's Urban Meeting Place (1000 W Myrtle St. Boise) from 2-4 p.m. for an afternoon of stitching!
Now more than ever, people are trying new crafts and activities. Let's spread the word on knitting and stitching so more people can benefit from its therapeutic qualities!
In order to gather safely, we will meet outdoors and practice social distancing. We highly encourage everyone attending to wear a mask.
What to bring?
– Your knitting, crochet, embroidery, or any other "stitching" project you enjoy.
– Lawn chair
– Mask
This event is free and family friendly!
For more information, please visit https://www.facebook.com/events/176553217118801/.
Idaho State Museum Re-Opening!
The Idaho State Museum, as part of its phased re-opening plan, will begin welcoming the public back on Saturday, June 13th!
Timed entry will be available for 30 visitors per hour (maximum of 60 visitors at any given time).
Starting on Monday, June 15, the Museum will host Member Mondays from 10am-12pm. Tuesdays beginning June 16, the Museum will offer a reserved hour for seniors (60+) from 9am-10am. No general public will be admitted during these times.
Please register in advance for your time slot and tickets using the ticket link HERE.
Please note:
– Some exhibits may be closed for the health and safety of staff and visitors.
– Please limit your time in the museum to 2 hours to allow other visitors to explore.
– Walk-ups will only be accommodated if the time slot is not at capacity.
– We highly encourage visitors to wear a face covering and practice social distancing when exploring the Museum.
– You must register online for a time to visit. Please arrive no later than 15 minutes past your scheduled time or you may have to forfeit your time slot.
– We will not accept cash at this time.
Comedy Open Mic is BACK!
Tough week? Dreading Monday? We feel that.
Join Laugh It Off Comedy Open Mic (610 E Boise Avenue Boise) each and every Sunday, and Laugh It Off!
Signups: 6:30 PM
Laughs: 7-9 PM
Happy Hour ALL DAY!
$3 wells
$6.50 pitchers
FREE laughs
Eastside is operating well within the protocols set forth by the State of Idaho and the CDC. In addition to this and hand sanitizer being readily available throughout the bar:
– a different, clean mic cover per comic will be provided (you are welcome to bring your own, but a mic cover is required)
– masks are not required but recommended when not performing or drinking
Let's take some time to Laugh It Off!
For more information, please visit https://www.facebook.com/events/253662585696407/.
Stay tuned to OnBoise.com, your site for fun, free, local entertainment for upcoming events in our weekly column, FUN10, every Sunday!
#Fun10Boise
Tess Abney is a freelance writer who was born and raised in the Quad Cities. She spends most of her time attempting to successfully raise three boys. In her free time, writing is her passion. Whether it is sharing local events and businesses with readers or sharing her thoughts on life, she finds comfort in the way words can bring people together.