10 Fun Things To Do Week of May 17th: Sea Turtles, Spy Kids, Bike Sales and MORE!
OnBoise.com proudly presents a brand-new new feature, FUN10, a list of the top 10 things to do in the Boise this week, and every week! Every Sunday, we'll drop a new FUN10, to give you a head start on your week and a heads up on what's going on over the coming seven days. Check out FUN10 every Sunday for the details on ten awesome events happening around town. It's a cool read, and a great way to get started planning your entertainment for the week.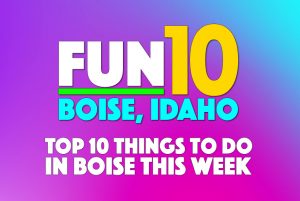 Due to the cancellation of so many regularly scheduled events in Boise – with more coming in every hour – we're focusing this week's edition of Fun10Boise on fun entertainment you can enjoy in the safety of your own home or while practicing safe 'social distancing'.
FUN10 — ten ways for you to have fun in the Boise, this week and every week, running every Sunday, only on your site for fun, free, local entertainment, OnBoise.com!
So what's on the FUN10 for this week? Read on …
Zoom LIVE Virtual Kids Book Club
Join Rediscovered Bookshop for their Zoom LIVE Virtual Kids Book Club -If We Were Giants, this Monday May 18 at 4 p.m.
This is a Virtual Zoom LIVE event and requires a FREE Event Brite Ticket. Tickets can be "purchased" here. Event is free and open to the public.
Kirra, a curious, agile, and outgoing girl, lives in an idyllic community hidden inside a dormant volcano. She and her father are the only two people allowed to venture beyond its walls. Kirra is in training to become a Storyteller like him, and together they travel from village to village spreading fearsome tales designed to keep outsiders away from their secret nest.
One day, after hearing rumors of strangers called the "Takers," Kirra leaves the volcano by herself, hoping to discover her own story. But she unknowingly leads the Takers back to her doorstep, and they rob her of everything she has ever held dear.
A devastated Kirra is found by a boy named Luwan and adopted into his family, which lives among others high in the trees of a dense forest. Now quiet and withdrawn, Kirra hides her dark past from everyone and never wants to leave the safety of her tree dwelling. Luwan, on the other hand, loves to explore. One day it leads to trouble: He is captured while spying on a group of strangers. The Takers have returned.
To save the Tree Folk, Kirra must face her inner demons and summon all her storytelling to weave the most important tale of her life.
This compelling novel about overcoming loss, embracing community, and living in harmony with nature is highlighted with a full-color insert of concept artwork, making it perfect for family sharing.
Geology of National Parks: Hawaii Volcanoes National Park
Stay entertained at home with the Girl Scouts of Silver Sage this Tuesday May 19 at 4 p.m., as they take us on a virtual tour of Hawaii Volcanoes National Park.
Join Mattie and Sarah as they take a look at another National Park, Hawaii Volcanoes National Park. The tour will take place on Facebook Live at: https://www.facebook.com/GirlScoutsofSilverSage/videos/696292781136752/ and on YouTube at: https://www.youtube.com/watch?v=YXtDksYzayE.
Biomark Webinar Series – Sea Turtle Tagging Database
Have you ever wanted to know more about Sea Turtles and how marine biologists keep track of their movements?
Join Sarah Hoffman and Chris Beasley of Biomark and Sarah E Hirsch and Justin R Perrault of Loggerhead Marine, Florida for Biomark's Webinar Series 'Sea Turtle Tagging Database' this Wednesday May 20 from 2 – 3 p.m.
To register online, click here.
The ability to identify and track individual marine turtles over many seasons and throughout their life provides a wealth of knowledge about biology, behavior, and movement. Passive Integrative Transponder (PIT) tags are a reliable, life-long, and minimally intrusive technique to identify and track individuals. Given the cost efficiency of PIT tags, in comparison to other tagging technology, they are an attractive solution to increase sample sizes. Despite their proven utility and longevity, there is limited infrastructure for tag data sharing and collaboration. Thus, re-sighting data (and the meristic and morphometric data that are typically paired to it) may not be currently leveraged to their full potential.
The Biomark Biological Services division is building an open-access, centralized database to streamline the sharing of marine turtle tag data in support of sea turtle conservation efforts.
For more information, visit https://www.biomark.com/news/post/sea-turtle-tagging-database.
Choose Your Own Adventure with Author Katherine Factor
Join Rediscovered Bookshop for an Instagram Live event with author Katherine Factor, featuring her Choose Your Own Adventure SPIES: Harry Houdini on the Rediscovered Books Instagram Page, this Wednesday May 20 from 4 – 5 p.m.
Choose Your Own Adventure SPIES: Harry Houdini takes YOU to stages around the world—from Paris to Moscow, Coney Island to San Francisco—wowing audiences with your death-defying stunts and magic tricks. But that's not all that Houdini was up to at the turn of the century…Will YOU agree to a lifetime of spying for the US and British intelligence agencies or is your magic routine life threatening enough?
Katherine Factor is a freelance editor, book coach, and educator. She has her MFA in Poetry from The University of Iowa Writers' Workshop, and has held positions at Idyllwild Arts Academy and Interlochen Arts Academy. She is a recipient of grants from the Iowa Arts Council, and the Arts Enterprise Laboratory for supporting projects publishing young writers. She is the author of both Choose Your Own Adventure: Mata Hari and Choose Your Own Adventure: Harry Houdini.
David Moss Performs Live at The Sandbar
Are you ready for some live music?
Join musician David Moss this Thursday May 21 from 6 – 9 p.m. at The Sandbar (The Riverside Hotel 2900 W Chinden Blvd Boise) as he picks some tunes down by the greenbelt along the beautiful Boise River!
For more information, visit https://www.facebook.com/events/922974488143156/.
Boise Bicycle Project Takes Bike Sales Outside!
Boise Bicycle Project is taking bike sales OUTSIDE!
Every Saturday from 11 a.m. – 5 p.m. Boise Bicycle Project (1027 S Lusk St. Boise) will host bike sales outside of their shop. Please read the rules in full before you attend:
BRING YOUR OWN MASK!
If you do not have one, you can purchase a discounted Boise Goathead Fest bandanna. *If you do not have a mask, you will not be able to test ride bicycles.*
COME TO THE TENT FIRST!
Please do not begin shopping before you check in with our staff at the tent. Why? Keep reading!
EVERY SHOPPER WILL BE GIVEN HAND SANITIZER AND GLOVES TO WEAR WHILE SHOPPING. THIS AND MASKS ARE REQUIRED TO SHOP.
Hand sanitizer and gloves will be at the tent, and if you do not have a mask, you can purchase our bandannas at the tent as well.
FIRST COME, FIRST SERVED.
Please allow them to monitor shoppers by waiting for your turn to shop
ONE AT A TIME OR FAMILIES/PARTNERS THAT COME TOGETHER WILL ONLY BE ALLOWED.
This is to monitor social distancing for you and us. Please expect a 15 – 20-minute wait. They ask that you be patient and wait before shopping. Be prepared to soak up some sun!
WE HAVE A FLOW, PLEASE FOLLOW IT!
The flow begins at the tent, and once you are done shopping you will exit at the end, not towards the tent.
15 MINUTE TEST RIDES.
While we usually do not cap test rides, we are capping them at 15 minutes for now. We want to make sure everyone gets the opportunity to shop for a sweet new ride!
NO RETURNS OF IN PERSON BIKE PURCHASES
This reflects our policy prior to COVID-19.
DISCOUNTS STILL APPLY FOR MEMBERS!
As a BBP Member you can receive a 20% on your bike purchase. Nice! Not a member? Join today at a yearly rate or at a monthly rate!
UBAM Spy Kids Camp
Have you ever pretended to be a spy or secret agent? Want to learn more about investigating, leaving secret messages, and exploring new places? Then join The Well Nested Bookshelf for their UBAM Spy Kids Camp on Saturday May 23 at 11 a.m.
You and your child will enjoy:
a storytime read-aloud …
an interview with a real-life Criminal Investigator …
follow along with a fun science experiment …
and while the kids put their new knowledge to work in the camp activity sheets, you'll get to browse through a selection of engaging, educational books to continue the fun at home!
PLEASE NOTE: Because your child will be meeting up with other campers online, please plan to attend the camp along with them as their chaperone — this is a mom-and-me style event!
Tap the yellow circle to RSVP at the link below now, and complete the survey so that I can send you the camp packet in advance. Then set an alarm in your phone so you won't miss a minute! This is a LIVE event with interactive posts, prizes, and all guests seeing the same posts at the same time.
https://event.sqweee.com/Event/Active/4AOIOBH
For the best experience, you will want to join us from a computer or tablet (held horizontally) but mobile phones work too. Doors open 8 minutes ahead of time for mingling and bonus videos! See you then!
The Magickal Realms Virtual Workshop
Have you ever wondered if faeries and mermaids truly exist? Legends and stories have been passed down from generation to generation, spinning tales of encounters with creatures from far off lands.
But have you ever considered that you, yourself, come from these realms? Perhaps you have a family that isn't entirely human. Have you ever had dreams of flying with wings, or swimming in the deepest oceans and being able to breathe with ease? Maybe you experienced spontaneous memories that you couldn't quite place because they didn't fall within the human realm. These could be signs of pastlife memories and not just fantasies. In this vast Universe, isn't it possible that we've experienced much more than this simple life? I think so!
Join Morrighan Lynne Virtual Workshop, The Magicka Realms this Saturday May 23 at 12 p.m. Tickets are just $35 and can be purchased here. Your eTicket and all details on how to join the call will be sent to your email address.
In this workshop we will discuss the many magickal realms and all that they offer our world. From the traits and talents of each being to the pitfalls and stumbling blocks that each tend to manifest. We'll go over the physical traits, personality quirks, even the innate gifts and talents of each realm. All with the intention of discover where you hail from. We'll even have a bit of time for Q&A towards the end.
You will receive your very own workbook containing the varying details of each magickal creature. My intention is that each person walks away with not only an better understand of who you have been but how to incorporate those attributes into your every day life now.
Visit https://morrighanlynne.com/hm/event/magickalrealms/ for more information.
Get Rich Quick with H&S
Join Hailee Lenhart-Wees and Shannon West for A Blue City Production, H&S: How to Get Rich Quick! on Sunday May 17 from 7 – 9 p.m.
H&S are the talk-show hosts of the Crisis!!! They drink and discuss How To Get Rich Quick.
TUNE IN 7PM MST The Lounge at the End of the Universe will be FACEBOOK LIVE!!!
Purchase your $5 ticket here. 100% of Virtual ticket sales goes to poor artists.
That Livin' Room Show Presents Dad Rock: Rock of the 60's – 70's
Join That Livin' Room Show for another online LIVE DRAG SHOW this Sunday May 24 at 8 p.m.! Category is: Dad Rock: Rock of The 60's – 80's
This is a benefit show that will feature a cast of performers bringing performances created while in isolation!
On Sunday May 24th we are bringing you a line up featuring some of Boise's Drag Kings & Queens.
100% of your donations will go directly into the hands of the entertainers who have prepared something special for the occasion, and you will also have the ability to tip while watching!
THIS EVENT IS FREE TO WATCH, however, donations and tips are welcome. Each performer will have their Venmo, PayPal, or Cashapp tags included during each number.
The show will start at 8PM. This is a Family Friendly show. Please Stay Classy.
Want to be in the show?!?
Please fill out this form:
https://docs.google.com/forms/d/1c0DmYN81OZW5vrwsEl_kzX_kThXwlhNnV2MTJ8UycGc/viewform?edit_requested=true
10 submissions, first come first served.
Deadline — Friday May 22nd at 10pm.
Email your Performance to: jsbsproductions@gmail.com
Stay tuned to OnBoise.com, your site for fun, free, local entertainment for upcoming events in our weekly column, FUN10, every Sunday!
#Fun10Boise
Tess Abney is a freelance writer who was born and raised in the Quad Cities. She spends most of her time attempting to successfully raise three boys. In her free time, writing is her passion. Whether it is sharing local events and businesses with readers or sharing her thoughts on life, she finds comfort in the way words can bring people together.