10 Fun Things To Do Week of May 31st: Art, Wine, Music and MORE!
OnBoise.com proudly presents our newest feature, FUN10, a list of the top 10 things to do in the Boise this week, and every week! Every Sunday, we'll drop a new FUN10, to give you a head start on your week and a heads up on what's going on over the coming seven days. Check out FUN10 every Sunday for the details on ten awesome events happening around town. It's a cool read, and a great way to get started planning your entertainment for the week.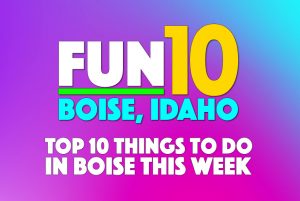 Due to the cancellation of so many regularly scheduled events in Boise – with more coming in every hour – we're once again focusing this week's edition of Fun10Boise on fun entertainment you can enjoy in the safety of your own home or while practicing safe 'social distancing' as the state begins to open back up.
FUN10 — ten ways for you to have fun in the Boise, this week and every week, running every Sunday, only on your site for fun, free, local entertainment, OnBoise.com!
So what's on the FUN10 for this week? Read on …
Willi B's Saloon is BACK!
Willi B's Saloon (12505 W Chinden Blvd Boise) celebrated their Grand Re-Opening on Saturday May 30! Which means they're ready for some fun!
Check out this week's schedule of events:
Tuesday Jun 2 at 7 p.m.
WilliB's Open Mic Night Returns – Mike and James host the best Open Mic in Boise, select $1 tacos and Happy Hour draft beer prices all night long! Every Tuesday evening at 7 p.m. Boom!
Thursday Jun 4 at 7:30 p.m.
Trivia with Matt – Boise's best Trivia is back! This is the only night we accept reservations so round up your team and reserve your table now! Free raffle prizes begin 7ish, don't miss out!
Friday Jun 5 at 8 p.m.
Bobby Dee Keys – Boise's best entertainer plays Willi B's Saloon! Don't miss this show, there is no greater music library then what's in his head and heart, he is un-stumpable. Get here early to save your seat, Friday June 5 @ 8pm. Boom! 2.00 Entertainment Fee.
Saturday Jun 6 at 8 p.m.
Ross McIntire – Ross brings his stack of guitars to Willi B's Saloon June 6 @ 8pm, don't miss this axe-man's show, Ross knows how to bring it…Boom!
Visit Willi B's Saloon on Facebook for more upcoming events!
Virtual Alive After Five Concert
The 34th season of the Alive After Five free summer concert series in downtown Boise presented by Connections Credit Union will kick off this Wednesday June 3 from 4:30 – 7:30 p.m. with an online concert with opener Deviant Kin and headliner Dustbowl Revival.
Make a night of it with curbside takeout from a downtown restaurant!
For more information, visit https://www.facebook.com/events/617223135557235/.
June First Thursday Scroll or Stroll in Downtown Boise
Plan your virtual or in-person June First Thursday route now by visiting https://downtownboise.org/events/first-thursday to discover all the experiences of downtown Boise.
With fabulous summer weather ahead and Idaho's largest concentration of restaurants, retail, artists & galleries, June First Thursday is the perfect night to SCROLL or STROLL through downtown and experience the many arts, cultural business and organizations that this amazing city has to offer. This is a great way to kick off the summer with supporting local dining & retail!
About First Thursday: First Thursday of each month in Downtown Boise always offers a unique experience for shoppers, diners, art and music lovers with downtown Business creating unique in-store & online events and extended hours.
1st Thursday Building History Tour
Ever want to know a little bit of Idaho Shriner history?
Well on the 1st Thursday of the month El Korah Shriners (1118 W Idaho St. Boise) holds guided tours of El Korah and the history related to it. From their murals to the building to the great men that help shape not only the Shrine but Idaho in general.
Tours start at 5:00 pm afterwards enjoy dinner at Brother Brown's BBQ and drinks at the Oasis.
For more information, please visit https://www.facebook.com/events/417065955826697.
Make Hunger History
Join Old Idaho Penitentiary (2445 Old Penitentiary Road Boise) for a four-day food drive and the rare opportunity to drive through the Old Idaho Penitentiary grounds and experience the site from a brand new perspective.
"Make Hunger History" takes place June 5-8, 10:00am-5:00pm each day. Guests bringing five canned food items and $5 in cash will be able to enter through the 1931 Sally Port entrance, the historic vehicle entrance into the Idaho State Penitentiary, carrying on a nearly 90-year tradition of onsite food delivery. 100% of proceeds and donations will benefit St. Vincent de Paul and the Idaho Foodbank, supporting Idahoans in need at this time.
Vehicles must be less than 8 feet wide and 9 feet tall in order to enter. Larger vehicles that don't fit through the port can still drop off donations to staff and volunteers located outside the prison walls.
Photo opportunities will be available inside, but guests must stay inside vehicles unless instructed to exit by staff or volunteers. Individual buildings will not be open for entry.
Please note:
– Vehicles should have no more than four occupants, and individuals must adhere to guidelines for social distancing. Vehicle occupants must also be from the same household and not have an illness or in the process of recovering from an illness.
– Only a limited number of vehicles will be allowed into the prison grounds at one time, which could mean wait times.
We are excited to welcome you back to the Old Idaho Penitentiary. For more information on the Idaho State Historical Society's phased re-opening plan, visit history.idaho.gov/updates.
Let's work together to "Make Hunger History!"
WalkAbout Boise
Join WalkAbout Boise every Saturday at 11 am for an approximately 1.5 hour guided walking tour through 150 years of history and architecture. Let us introduce you to the built environment that makes downtown Boise like no other place.
We meet at the bench in front of the Basque Museum. These walking tours will be held rain or shine, so please plan and dress accordingly with comfortable walking shoes, sunscreen, an umbrella if needed for sun or rain, and a bottle of water. They will start promptly at 11 am and end around 12:30 pm, beginning and ending in front of the Basque Museum on Grove Street downtown Boise.
Tickets: $12.00
*Member discount: If you are a member of Preservation Idaho and wish to take advantage of a $2 member discount, please email Gaby Thomason at gaby@preservationidaho.org for the member discount code. Preservation Idaho will provide full refunds only to those canceling their reservations no later than a week in advance of their scheduled tour. To cancel, please contact Gaby Thomason at (208) 353-2011 or gaby@preservationidaho.org
For more information, please visit https://www.facebook.com/events/251842295823084/.
One Show to Rule Them All
Join Mardi Gras Boise (615 S 9th Street Boise) for 'One Show To Rule Them All' this Saturday June 6 from 6 – 9 p.m.
From the sunny slopes of the Shire to the fiery gates of Mordor, take a musical journey through Tolkein's Middle Earth with local music nerds performing the music of Led Zeppelin, Enya, Annie Lennox, The Eagles, Howard Shore, and more.
All Ages Event after the Boise Comic Con Doors at 6 pm Music starts at 7:00 pm Tickets $10 Early Bird / $12 at Door
For more information, please visit https://www.facebook.com/events/581737989287925/.
The Crystal Ball
OG Persona is proud to present 'The Crystal Ball' for the very first time, this Saturday Jun 6 at 6 p.m. at The Lounge at the End of the Universe (2417 W Bank Dr. Boise).
MANIFESTATIONS being realized. We are collectively calling this event in on so many subconscious levels. IMAGINE seeing visionary artists immersed in their work around you as you engage in a safe container to explore the facets of yourself and those various crystalline expressions you embody.
MOVING freely to an intelligent rhythm that is SO creatively curated and carrying a message of a global cohesion. UNIFYING heartbeats.
This is the space we have been wishing to mindfully birth.
Early Bird……………… $20
General Admission…. $25
Door Price………………$35
Ages 18+
21+ to drink
To purchase tickets, and for a full line-up, please visit https://www.eventbrite.com/e/the-crystal-ballatyyasoohan-anchor-hill-secret-headliner-tickets-96160417397.
Idaho's Sunnyslope Winery Tours
Learn why Idaho wines are in the ring with the "heavy hitters" of wine regions and why this hidden gem is a "must-do" on your list when visiting Idaho. You can purchase your tickets below by clicking the link. We can't wait for you to join us.
https://www.idahowinetours.com/store/p517/June_6_-_Public_Wine_Tour_-_Sunnyslope_.html
Times and wineries will be announced the Wednesday prior to the tour. We are limiting these tours to only 6 people currently
Art and Roses 2020
2020 is Art and Roses' 30th year!
Art and Roses 2020 will take place this Sunday Jun 7 from 10 a.m. – 5 p.m. in the Rose Garden at Julia Davis Park (700 S Capitol Blvd Idaho).
This beautiful outdoor art event showcases Idaho's fine artists with all original work- no prints or crafts. A portion of all sales will benefit the Julia Davis Memorial Rose Garden. Show is produced by the Idaho Centennial Art Group in partnership with Boise Parks Department.
Admission is free. For more information or to participate, email Ellen at BoiseArtShow@gmail.com
Stay tuned to OnBoise.com, your site for fun, free, local entertainment for upcoming events in our weekly column, FUN10, every Sunday!
#Fun10Boise
Tess Abney is a freelance writer who was born and raised in the Quad Cities. She spends most of her time attempting to successfully raise three boys. In her free time, writing is her passion. Whether it is sharing local events and businesses with readers or sharing her thoughts on life, she finds comfort in the way words can bring people together.