Zoom LIVE Virtual Kids Book Club
Join Rediscovered Bookshop for their Zoom LIVE Virtual Kids Book Club -If We Were Giants, this Monday May 18 at 4 p.m.
This is a Virtual Zoom LIVE event and requires a FREE Event Brite Ticket.  Tickets can be "purchased" here.  Event is free and open to the public.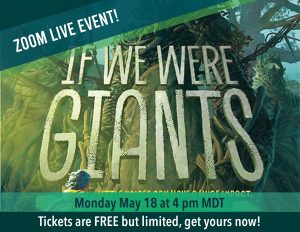 Kirra, a curious, agile, and outgoing girl, lives in an idyllic community hidden inside a dormant volcano. She and her father are the only two people allowed to venture beyond its walls. Kirra is in training to become a Storyteller like him, and together they travel from village to village spreading fearsome tales designed to keep outsiders away from their secret nest.
One day, after hearing rumors of strangers called the "Takers," Kirra leaves the volcano by herself, hoping to discover her own story. But she unknowingly leads the Takers back to her doorstep, and they rob her of everything she has ever held dear.
A devastated Kirra is found by a boy named Luwan and adopted into his family, which lives among others high in the trees of a dense forest. Now quiet and withdrawn, Kirra hides her dark past from everyone and never wants to leave the safety of her tree dwelling. Luwan, on the other hand, loves to explore. One day it leads to trouble: He is captured while spying on a group of strangers. The Takers have returned.
To save the Tree Folk, Kirra must face her inner demons and summon all her storytelling to weave the most important tale of her life.
This compelling novel about overcoming loss, embracing community, and living in harmony with nature is highlighted with a full-color insert of concept artwork, making it perfect for family sharing.
---
For more fun things to do in Boise this week, check out the latest issue of Fun10Boise. 
Tess Abney is a freelance writer who was born and raised in the Quad Cities. She spends most of her time attempting to successfully raise three boys. In her free time, writing is her passion. Whether it is sharing local events and businesses with readers or sharing her thoughts on life, she finds comfort in the way words can bring people together.