The Magickal Realms Virtual Workshop
Have you ever wondered if faeries and mermaids truly exist? Legends and stories have been passed down from generation to generation, spinning tales of encounters with creatures from far off lands.
But have you ever considered that you, yourself, come from these realms? Perhaps you have a family that isn't entirely human. Have you ever had dreams of flying with wings, or swimming in the deepest oceans and being able to breathe with ease? Maybe you experienced spontaneous memories that you couldn't quite place because they didn't fall within the human realm. These could be signs of pastlife memories and not just fantasies. In this vast Universe, isn't it possible that we've experienced much more than this simple life? I think so!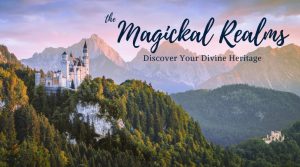 Join Morrighan Lynne Virtual Workshop, The Magicka Realms this Saturday May 23 at 12 p.m. Tickets are just $35 and can be purchased here. Your eTicket and all details on how to join the call will be sent to your email address.
In this workshop we will discuss the many magickal realms and all that they offer our world. From the traits and talents of each being to the pitfalls and stumbling blocks that each tend to manifest. We'll go over the physical traits, personality quirks, even the innate gifts and talents of each realm. All with the intention of discover where you hail from. We'll even have a bit of time for Q&A towards the end.
You will receive your very own workbook containing the varying details of each magickal creature. My intention is that each person walks away with not only an better understand of who you have been but how to incorporate those attributes into your every day life now.
Visit https://morrighanlynne.com/hm/event/magickalrealms/ for more information.
---
For more fun things to do in Boise this week, check out the latest issue of Fun10Boise. 
Tess Abney is a freelance writer who was born and raised in the Quad Cities. She spends most of her time attempting to successfully raise three boys. In her free time, writing is her passion. Whether it is sharing local events and businesses with readers or sharing her thoughts on life, she finds comfort in the way words can bring people together.