Make Hunger History!
Join Old Idaho Penitentiary (2445 Old Penitentiary Road Boise) for a four-day food drive and the rare opportunity to drive through the Old Idaho Penitentiary grounds and experience the site from a brand new perspective.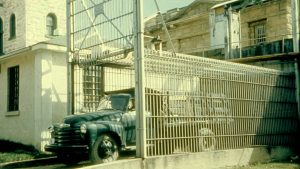 "Make Hunger History" takes place June 5-8, 10:00am-5:00pm each day. Guests bringing five canned food items and $5 in cash will be able to enter through the 1931 Sally Port entrance, the historic vehicle entrance into the Idaho State Penitentiary, carrying on a nearly 90-year tradition of onsite food delivery. 100% of proceeds and donations will benefit St. Vincent de Paul and the Idaho Foodbank, supporting Idahoans in need at this time.
Vehicles must be less than 8 feet wide and 9 feet tall in order to enter. Larger vehicles that don't fit through the port can still drop off donations to staff and volunteers located outside the prison walls. Photo opportunities will be available inside, but guests must stay inside vehicles unless instructed to exit by staff or volunteers. Individual buildings will not be open for entry.
Please note:
– Vehicles should have no more than four occupants, and individuals must adhere to guidelines for social distancing. Vehicle occupants must also be from the same household and not have an illness or in the process of recovering from an illness.
– Only a limited number of vehicles will be allowed into the prison grounds at one time, which could mean wait times.
We are excited to welcome you back to the Old Idaho Penitentiary. For more information on the Idaho State Historical Society's phased re-opening plan, visit history.idaho.gov/updates.
Let's work together to "Make Hunger History!"
---
For more fun things to do in Boise this week, check out the latest issue of Fun10Boise. 
Tess Abney is a freelance writer who was born and raised in the Quad Cities. She spends most of her time attempting to successfully raise three boys. In her free time, writing is her passion. Whether it is sharing local events and businesses with readers or sharing her thoughts on life, she finds comfort in the way words can bring people together.